– –
Not many of us can relate to the desire to create bespoke collectibles as a dream job. But what everyone should refer to is the desire to fulfill a lifelong dream. That's exactly what artist Johnny Draco did when he moved to Boulder almost a year ago and got a job at Kidrobot. Now, Draco is making a name for himself in Denver, creating in at least four different media – toy sculpture, graphic design, pen drawing, and painting.
Before coming to Colorado, Draco grew up in Atlanta, where he honed his graphic design skills and created his own clothing brand. While Draco still lived in Atlanta, he created an alphabet for the city, with each letter representing a different landmark or business that he visited, the ATL alphabet, as he called it. After moving from Boulder in August 2017, the multi-faceted artist decided to familiarize himself with the Mile High City by creating yet another city-centered alphabet. With 26 days dedicated to the task Draco developed the DEN alphabet – a personal yet very relatable work of art to showcase locations in Denver.
– –
– –
To go back for a moment What exactly is Kidrobot? Why is it worth a dream job? Kidrobot mainly makes designer toys, but also deals with clothing and other lifestyle accessories. All of their products are made by artists and are available in limited editions – making them an attractive collector's item for a wide range of people. It also gives steady income to many artists while still using their creativityy. Draco is now a senior concept designer for the toy company and divides his time between the Boulder headquarters and his Denver home.
303 Magazine sat down with Draco in the weeks leading up to his first solo show in Colorado (starting June 1 at BAIT) and published the DEN alphabet to talk about his career path, favorite cartoons, and whether the dream job was at Kidrobot is or not what he had in mind.
– –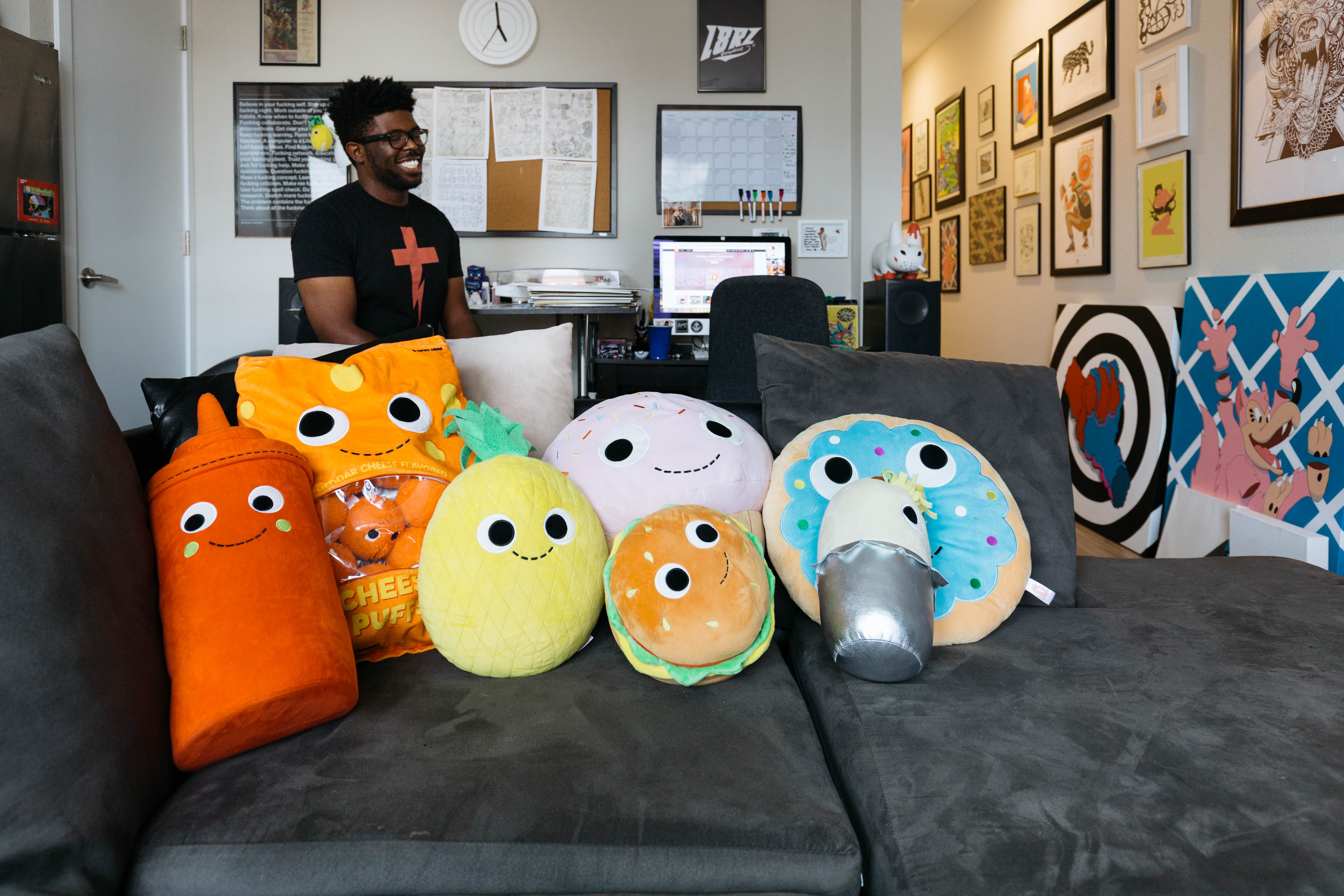 – –
303 Magazine: Tell me about your dream of working for Kidrobot.
Johnny Draco: I basically first heard about Kidrobot when I was 16 or 17, around the time Pharrell was making cool music videos and I was into custom toys. I saw fashion vinyl toys as a cool other cultural genre that didn't really exist in the US. In Japan it was already crazy. When I graduated from high school, I got the chance to go to New York and go to the Kidrobot store and it was there that I realized my house should look like this, all colorful. It was then that I realized I wanted to make my own clothing line and that was my entry point into creating art for a living.
303: You're self-taught in art, so what did you go to school for?
JD: I went to Morehouse College – an all-black college for men that Martin Luther King Jr. graduated from – and studied political science, which is completely different from art. I was also on my way to becoming a lieutenant in the military.
303: Woah, that's a big change. What happened?
JD: I did an internship at ABV [a marketing agency, design studio and gallery in Atlanta]. At first I assumed that you can't really make money with art. When I went there I saw these guys chilling out and doing their art and I realized that maybe I could be an artist full time. I just gave up on all political and military things and focused on drawing, painting and designing clothes. It was the first time in my life that I did something my parents didn't want me to do. At first they weren't sure, but now they're starting to see. You really support us now.
303: You say on your website that "being a child is the purest form of creativity". How do you keep your inner child alive and healthy?
JD: There are many different things, maybe go to the park and swing. Or keep up with the latest cartoons. Just keep everything you do as fun. Sometimes we get so caught up in the now of life and adult responsibilities that we forget who we are and what we want to do. Adult sometimes sucks.
– –
This slide show requires JavaScript.
– –
303:: My first thought was "he must like cartoons" – is that true? What did you like when you were younger than what you like today?
JD: Yes. When I was younger I saw "Courage the Cowardly Dog" – a little creepy, but great. "Dexter's Lab." "Dragon Ball Z." "Ed, Ed and Eddy." I love stupid and weird things. I'm really deep into anime and manga. When I got into high school, my boyfriend put me on all of these animes and now I'm stuck. Now I keep watching "Adventure Time". I also love "gumball". And for anime, I'm watching "One Piece" right now. I go through the full spectrum of the style, but I particularly like action or thriller cartoons.
303: What are some of your favorite accomplishments so far in your career?
JD: Kidrobot, just in general. It has always been a dream to work there. In college, that was always my answer when people asked what I wanted to do with my life. Just working there is generally a huge accomplishment, but then the icing on the cake was making my own toys. I created it last February.
– –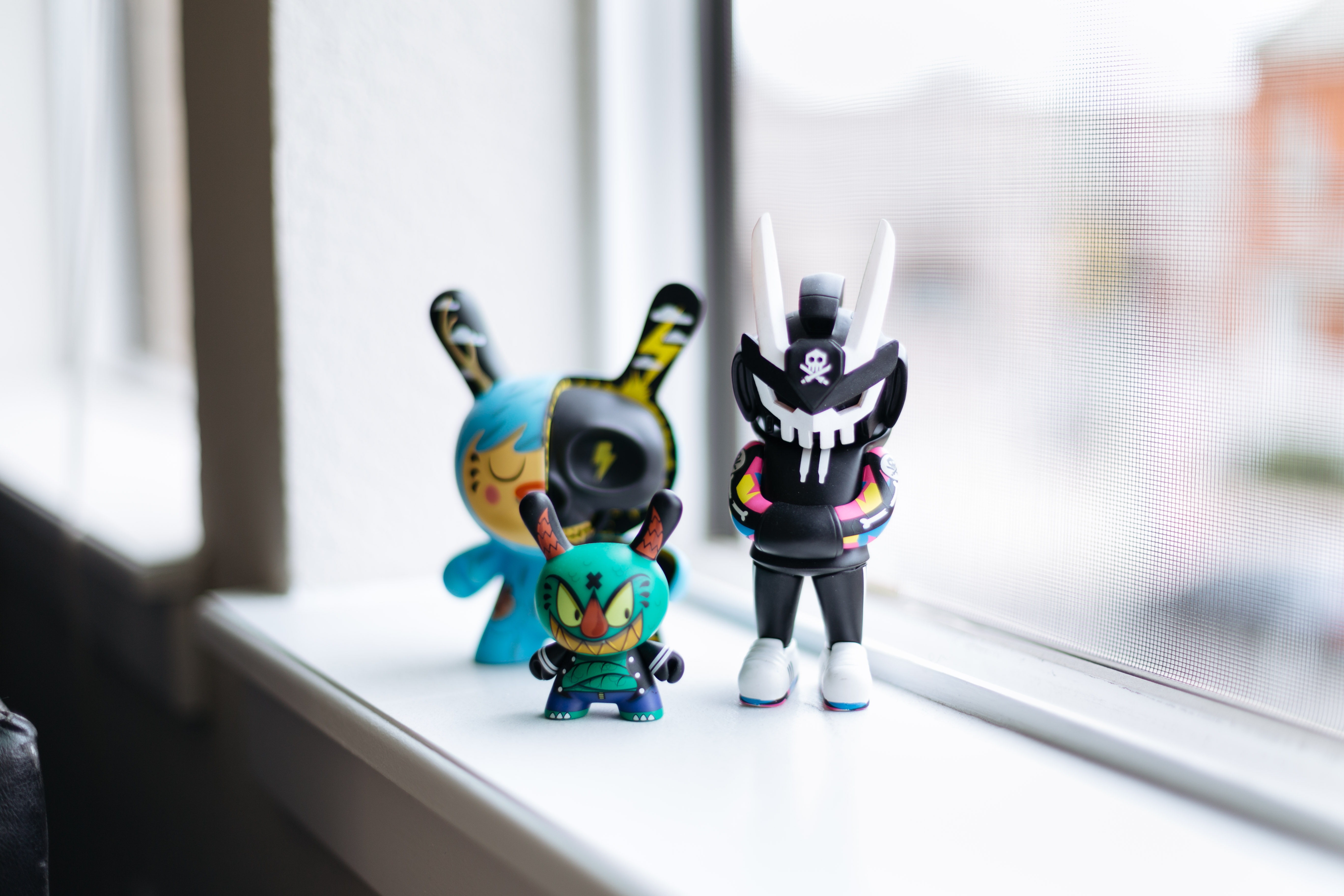 – –
303: Since you have already achieved one of your greatest dreams, do you have any flaws?
JD: I don't think I've had a lot of mistakes, I just see them as missed opportunities. For example, the first city alphabet for Atlanta was not properly advertised. Instead of composing an email and explaining and then sending it to all of the companies I signed, I just sent a copy of my artwork with no explanation and there was some confusion. I learned something from it.
303: What first inspired you to create the alphabets?
JD: When I started getting deeper into the arts, I wanted so much exposure and improve my craft. I thought of a better way to promote myself. Typically, when creating a print to get people interested in your art, you need to relate to someone. And I've been thinking about the alphabet because anyone can relate to it. I was thinking about placing my sights or favorite spots or places of inspiration and this is how the ATL list was made. I've heard of people take that and turn it into a scavenger hunt and do really cool things that I love.
– –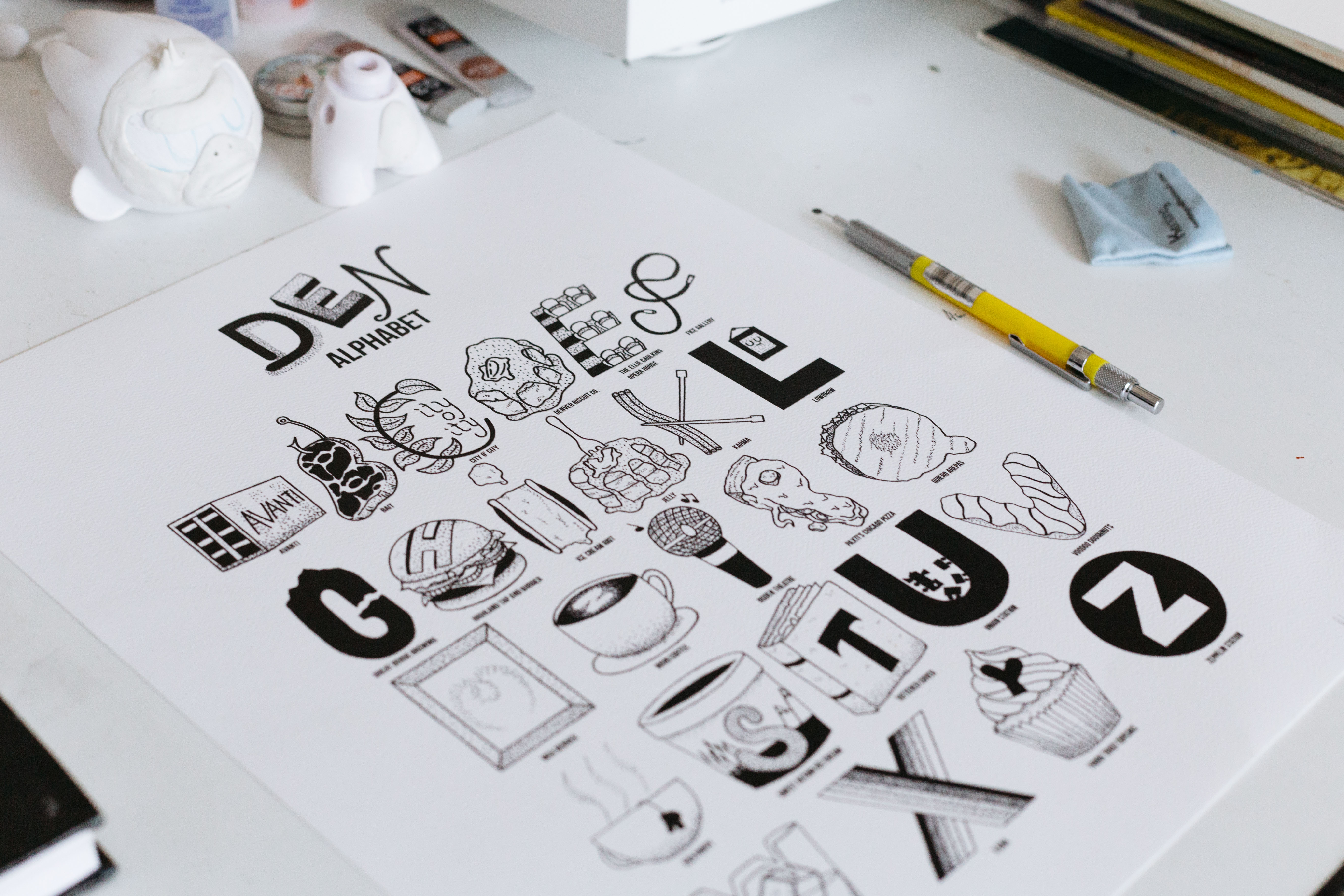 – –

303: How would you describe yourself as an artist?
JD: I don't like being in the spotlight. I would rather stand right next to you and watch you experience the art. I like real art-related conversations – small talk sucks. Some of my color choices are based on the line of sight. Depending on how the piece is, I focus on certain points when choosing colors. I draw your gaze to a tiny point in the middle by creating a contrasting shade [around it]. I try to align my eyes a lot [in my painting]just experiment and see how people react to it.
303: As a kid, did you color inside or outside the lines?
JD: I definitely colored inside the lines. The coloring outside of the lines really made me angry. I used to draw and scribble in church when I should have been careful. I hated colored pencils so I usually did watercolors and always kept them within limits.
303: If you could make a Kidrobot toy for anyone living or dead, who would it be and what would the toy look like?
JD: I would do one for my grandpa. I'm not sure if he was ever really aware of me and my art, but I'd love to make one for him. I don't necessarily know what it would look like, but it would definitely be attributed to his comedic and feminine masculine nature.
– –
This slide show requires JavaScript.
– –
Draco will be showcasing some of his paintings and lines at an upcoming exhibition that opens June 1st. 2018 at BAIT (1962 Blake Street). The show is titled Due Rent and deals with everyday topics – like walking the dog, chatting with neighbors and of course working on paying the rent.
The Denver alphabet will hopefully be available at local businesses in the coming months, but be sure to check out his Instagram for now.
All photographs by Brittni Bell Warshaw.
]]>