Denver Airport has achieved legendary status: the demon horse, the Nazi murals, the aliens, the man. And while there are many conspiracy theories, DIA has something else to offer: delicious, rich food and drinks. It's regularly recognized as the top 5 grocery airport in the U.S. (it's one thing) and often takes first place. Why? For starters, the forces that have been selected are proven local favorites. If it's not broken, take it to the huge place with the white tent and underground tunnels to survive apocalyptically, right?
And while Denver International is undergoing extremely annoying construction right now, it also means more restaurants and bars are coming. There are gate expansions, and when the Jeppesen Terminal Great Hall receives the old four-year facelift of over $ 770 million, security will be postponed and more spaces will be opened for business. For breakfast, lunch and / or dinner, the following locations are your best bets at Denver International. At least the places we know …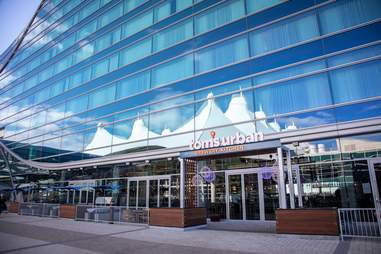 Toms Urban Kitchen & Brewery | Denver International Airport
HOTEL & TRANSIT CENTER
Toms Urban Kitchen & Brewery
West side of the plaza
Unless you're from Denver, you probably don't know about the highly controversial race where everyone in town bids to have the first only functioning brewery at the airport (and that's fine, it was exhausting). When the smoke was gone, Toms and Tivoli Brewing prevailed. On the spot, you'll find Tom's diner-on-steroids menu – think ribs, lobster rolls, and banh-mi tacos alongside a huge drinks menu that features a handful of the locally brewed beers.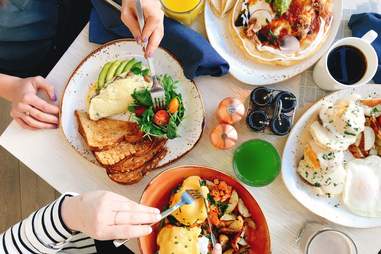 Grill & Vine | The Westin Denver International Airport
Grill & Vine
Level 5, Plaza
A lot is going on at the Westin Hotel, which is attached to the airport. And what do you need in doing this business? Eat. And alcohol. At Grill & Vine, the name says most of it since grilled meat is paired with a long wine list. There are also sandwiches, beers, and all sorts of things to make you forget that for some reason you are in a Westin that is attached to an airport.
JEPPESEN TERMINAL
Boulder Beer Tap House
Level 5, west
The fact that Boulder Beer – Colorado's oldest craft brewery – recently closed its taproom in its hometown makes a visit to this security outpost more necessary than ever. Denver-based Sleeping Giant Brewing still produces a number of Boulder Beer's biggest hits. So you can still enjoy Hazed & Infused, Singletrack, and Buffalo Gold while enjoying ready-to-serve breakfast burritos, sandwiches, and green chillies in the airport's Great Hall.
Red Rocks Bar & BBQ
Level 5, east
Red Rocks gets a reputation here, not because it serves the best BBQ in town – or even at the airport – but because it's a good place to hang out with a cocktail or three alongside Boulder Beer in Terminal. And if your ride is stuck in traffic or you're snowed in for the night, get the brisket or green chilli (of course).
To the Jeppesen Terminal in brief: Jax Fish House, The Post Brewery
Denver Central Market | Denver International Airport
A GATE
Brother's BBQ / Breckenridge Brewery
Next gate: A71
The O'Sullivan's native grilled meat empire recently landed at DIA and is offering an even stronger punch than usual. It shares a room with another Colorado-bred troupe: the Breckenridge Brewery. Grab a hot limb and pull out a pork combo sandwich – called "The Brother" – and pair it with one of Breck's acclaimed beers like the malt-forward Avalanche.
Denver Central Market
Next gate: A48
A few years ago, Denver Central Market joined the extremely overcrowded Food Hall craze in Colorado's capital city. It immediately stood out for its great location and unique offerings. So why not throw one in the airport? Law. Here you can find cheese boards, sandwiches, salads, sushi, pizza, pasta – yes, pretty much anything. And yes, there is a bar too.
Denver Chophouse
Central core
The Chophouse has long considered it the chicest option in the A-gates, the land of international flights, Delta tours, and people who look really crazy (so almost certainly fly Frontier). Since it's been a minute, it's easy to miss the firm sandwiches, steaks, and proprietary beers. Hang out a bit, especially if your Frontier flight is delayed by four days.
Snarf's sandwiches
Snarf's sandwiches
Next goal: A73
Snarf's has been hurling Sandos in Colorado since 1996, so it was only a matter of time before it entered the airlift center. This bare outpost – read: no bar – is probably best for a take-away sandwich. Just don't get a hot one. You're welcome. For the love of everyone else on the plane.
Soon to the A-gates: Mercantile Dining & Commission
New Belgium Brewing
B GATES
Elways
Central core
Eating with a flexible company account? Or with a travel buddy that you really, really (and strangely) try to impress at an airport? Or has your flight been delayed by a week-long snowstorm and you've lost the will to worry about the financial implications at all? This is your place. At Elway's, you'll find killer steaks and stiff cocktails, as well as a variety of memorabilia honoring the restaurant's namesake, owner, and Denver Broncos. And if you're not a sultan don't fret, they have a burger that most of all won't go bankrupt.
Etais
Next gate: B23
In 1994 Udi's was founded in Northglenn, Colorado. Eventually it became Etais because of a business-minded this or that. It's all pretty confusing. What is not is that the local chain offers salads, sandwiches and pizzas made with fresh ingredients. There is also a bar here.
New Belgium Brewing
Next gate: B30
Fort Collins-based New Belgium may have lost its indie reputation – it was recently sold to the international behemoth that makes Lion and Kirin – but it still brews a mighty fine beer, as fine as you get at most airports find count. And in addition to its dozen taps – which of course also include the nationally coveted Amber Fat Tire – the newly opened spot offers creative accents for pub food. Many of the recipes contain New Belgium's own foam.
Smashburger | Denver International Airport
Smashburger & Bar
Next gate: B44
Also in C-gates that are closest to C51
Chipotle, Qdoba, Noodles & Company. Denver doesn't mess around when it comes to establishing fast-casual giants. Smashburger is no exception and can now find not just one, but two houses at DIA. This is where you will find the burger of the same name that is pressed onto the grill to create a juicy crust. But unlike most other Smashburgers, these venues have full-blown bars.
Steve's snap dogs
Next goal: B24
We're still trying to figure out why eating a hot dog in an airport is so fun – especially one that's wrapped in a tortilla and topped with chili, bacon, and a few other things that are bad for you – but it is damn safe. Steve's – which started on Denver's famous Colfax Avenue – is a hidden gem that offers 12 beers on tap.
Wolfgang Puck
Mezzanine
Heard of this aspiring Austrian chef who made a splash in Los Angeles before venturing into bigger and better things? Now is your chance to try his cooking. In addition to cocktails, beer and wine, Wolfgang's also offers pizzas, sandwiches and salads that are too good for an airport.
Soon to the B-gates: Shake Shack, Osteria Marco, Schlummer, Hacienda Colorado
Root down YOU
C GATES
Great Divide Brewing
Next goal: C32
Great Divide has long been a standard bearer of the art of brewing in the city of Denver. Beer for beer there may not be a foam manager with a higher beat average. And look, GD has outdone itself with this new spot. Start with the bar, which has a dozen Great Divide designs (plus more beer offerings), plus cocktails made with beers, wines, and spirits – the full range. The menu itself goes beyond the usual bar fare and features Colorado-inspired offerings like lamb meatballs, bison chilli, and a burger freshly made with local beef.
The little house
Central core
Even if you haven't had a chance to eat Mexican food – or just connect – while you're in Denver, La Casita has your back. At the bar, which is in a corner of the food court, you'll find margaritas, burritos (including the breakfast variety), and D-Town's aforementioned crown jewel: Green Chile. The best part? You can get La Casitas specialty tamales to take away.
Little man ice cream
Next goal: C27
Little Man has steadily grown to become the largest frozen dairy farm in Mile High City. So it is only fitting that the dessert empire has established its newest location at the airport. The recent opening not only caused a stir with the availability of its valuable brands – such as Salted Oreo and Purple Cow – and ice cream Sammies, but especially with the juicy milkshakes. Flavors like Whiskey Apple Pie and the conspiracy-friendly Illuminati will satisfy your sweet tooth and help calm the nerves that face DIA's infamous turbulence.
Root down
Central core
For years there has only been one answer to the question: What is the best restaurant at DIA? Root Down was the answer. When the Edible Beats group decided to open a sister restaurant for their hugely popular Highland spot in 2013, it wasn't immediately clear whether or not the airport company would pay off. That was the case, of course, and years later, it's still difficult to beat Root Down's artisanal cocktails, tap list, and unique cuisine. There are plenty of places coming to Denver Airport soon, but you will have your hands full chasing this crown.
Sign up for our daily Denver email here and be the first to get the food / drink / fun in town.
Colin St. John is a Denver-based writer, editor, and joker. It is written for Rolling Stone, Deadspin, Esquire and Pitchfork.